---
Gajendra Moksha Dham, located in Binai Triveni Municipality Ward No. 6 under Nawalpur District of Gandaki Province, is being developed as a religious tourist destination. In recent times, visitors from different parts of the country have been coming to visit and observe the site, which has gained interest and discussion as a divine abode. The Gajendra Moksha Narayan Temple, built in the style of various arts, culture, agam crafts, tantra crafts, the octagonal pagoda style Sheeshmahal, etc., have further enhanced its dignity and importance.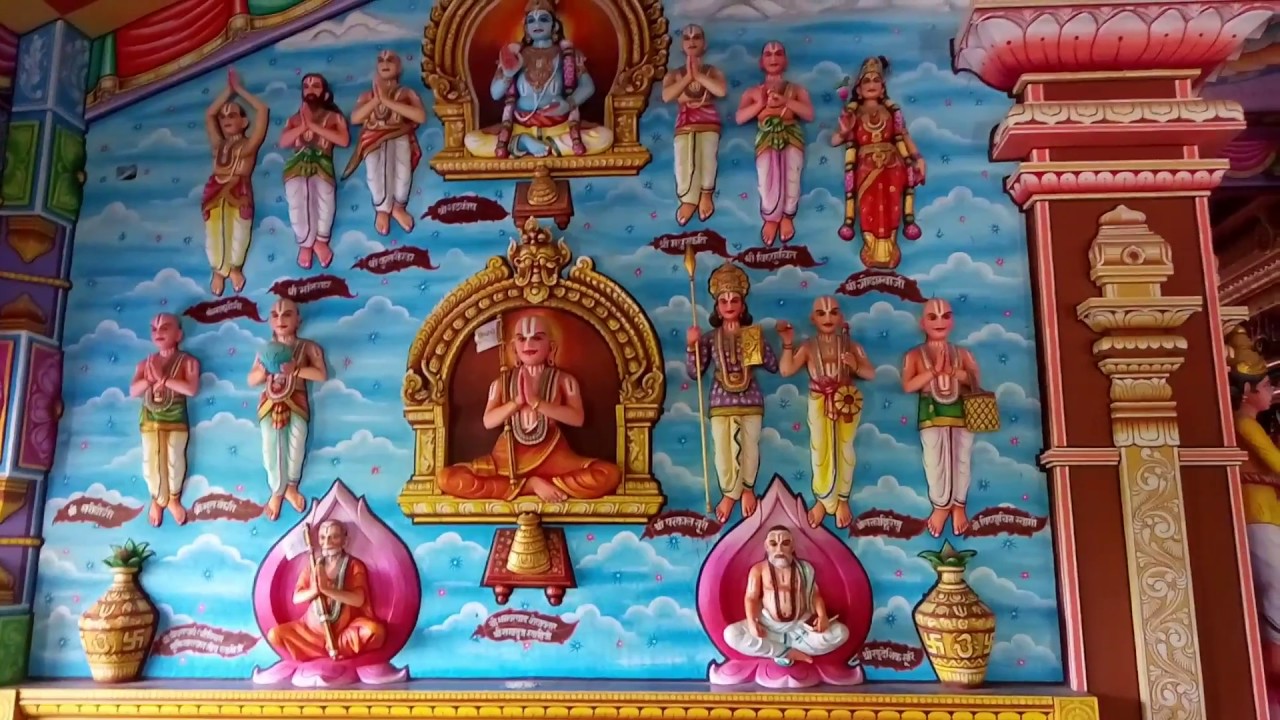 Swami Krishna Prapannacharya said that the shrine, located at the confluence of Swarna Bhadra, Purnabhadra and Narayani rivers, has special religious significance. "Gajendra Moksha Dham is an important heritage not only of Gandaki but also of the entire nation," he said. He informed that various structures including Shrigjendra Moksha Narayan Temple, Pathshala, Gajendra Moksha Kamadhenu Gaushala and Dharamshala have been constructed in the Gajendra Moksha Dham premises with the active participation of Ananta Shri Vibhushit Muktinath Peethadhishwar Swami Kamal Nayanacharya Shriji Maharaj (Muktinath Baba).
Gajendra Moksha Dham and its surroundings, including the abyssal land of Mother Sita, the place where Maharshi Valmiki wrote the poetic Valmiki Ramayana, the birthplace of Love and Kush, Keulani temple, self-revealed Nagasthan, Balpuri, Nagababa Kuti, Laxmi Venkatesh temple, Laxminarayan temple, Ramjanki temple, Kathwam cave, Gadimai etc. Interesting statements about Gajendra Moksha Dham are found in ancient scriptures like Shrimadbhagavata, Skanda Purana, Padya Purana, Vaman Purana, Baraha Purana etc.
In ancient times, there was a beautiful forest at this place on the banks of Narayani river. In the forest lived deer, bundel, jarayo, rhinoceros, vangai, dumsi, lion, tiger, monkey etc. Gajendra (elephant) lived with his family as the king of the forest. All the animals in the forest, big and small, were afraid of Gajendra. One day, Madmat Gajendra reached Narayani shore with his group for a water ride. Reaching the river, the crocodile grabbed Gajendra's leg while he was playing by throwing a fountain of water through a trunk. After the crocodile grabbed his leg, there was tension between Gajendra and the crocodile.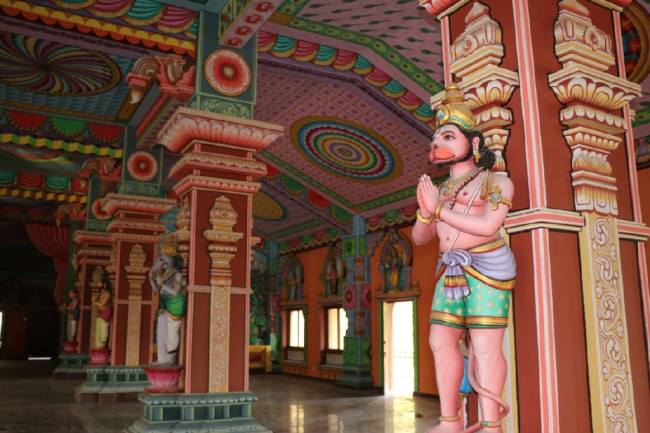 It was not possible for Gajendra to be rescued from the crocodile by other elephants and cubs. Eventually, Gajendra's power weakened. After not having any skill, Gajendra praises Narayan by making sure that Lord Narayan will protect him through the memory of Bhagavad-gita devotion done in the previous birth. While the crocodile is pulling, only the trunk survives, but when Lord Narayan climbs on the eagle, the trunk picks a lotus flower. It is mentioned in the scriptures that Narayan, who was pleased with Gajendra's praise and devotion, rescued Gajendra by cutting off the crocodile's head by Sudarshan Chakra.
According to the scriptures, Gajendra was a king of the Pandya dynasty named 'Indradyumna' in his previous birth. He became an elephant due to the curse of Agastya sage. Similarly, there was a Gandharva named Graha (crocodile) Huhu. He became a crocodile due to the curse of Deval Rishi. Both the sages, even though they were elephants and crocodiles, were blessed by Lord Srihari to give up the bodies of elephants and crocodiles and attain salvation. There is a legend that this Dham is considered as Gajendra Moksha Dham as it is the place where both Graha and Gajendra got salvation due to the same blessing.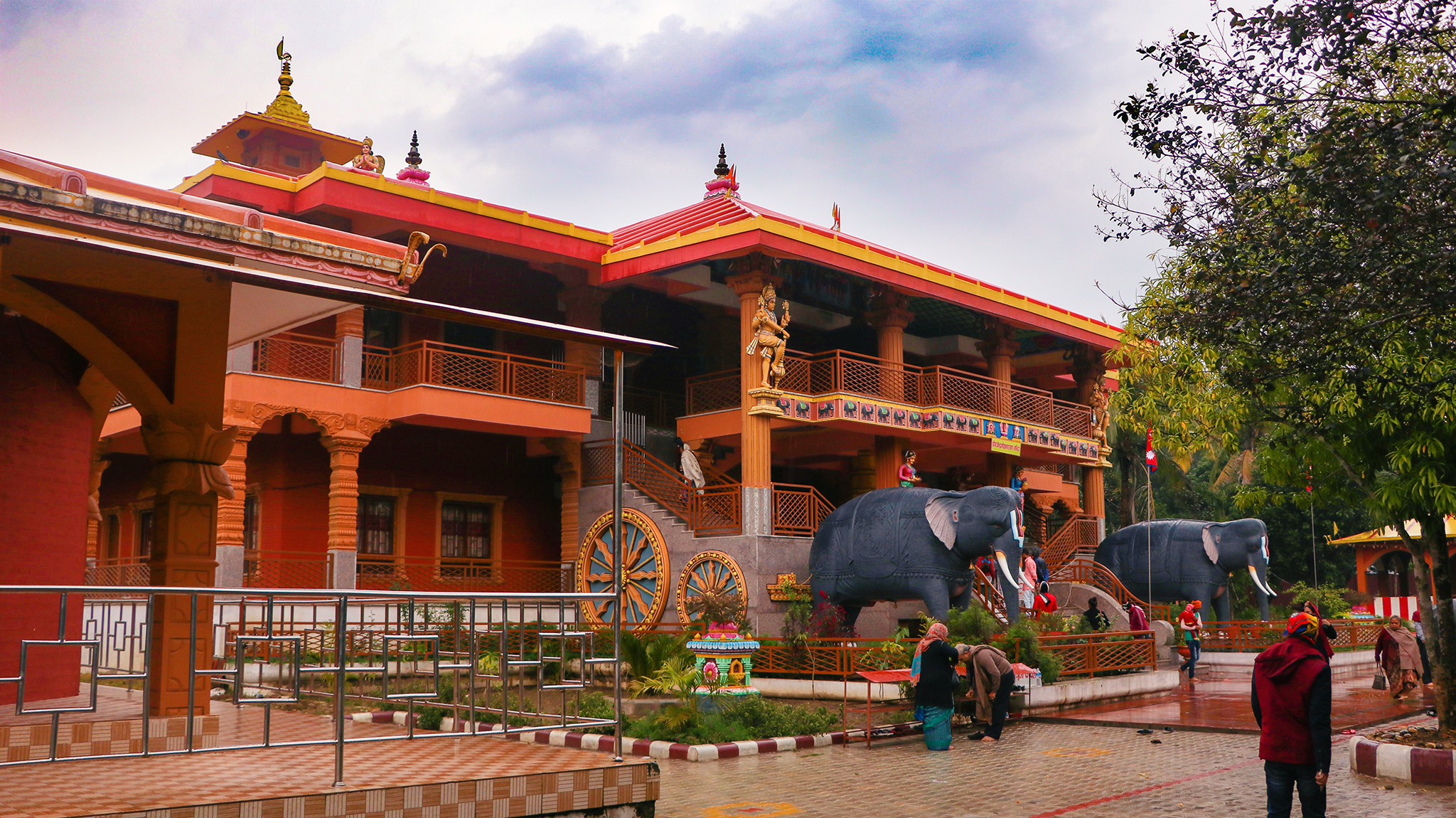 Tourists visiting Gajendra Moksha Dham are attracted by the various scenes in the temple premises built in a way that reflects Vedic art and civilization. The exterior of the Gajendra Moksha Narayan Temple is in pagoda style while the interior is in South Indian style. The large number of idols of gods and goddesses has fascinated everyone who comes here. Sheeshmahal in the Dham complex is another attraction here. It is worth seeing Radhakrishna as a couple of Lords inside Sheeshmahal. Visitors to Sheeshmahal are fascinated by their reflections wherever they go.