Places In Nepal You Will Regret If You Wont Go : The Top 5
---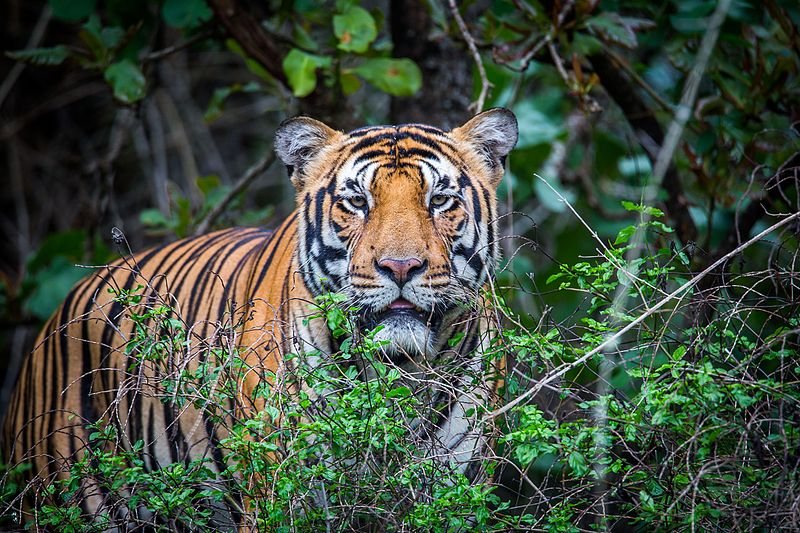 Bardiya Tiger
Places in Nepal you will regret if you wont go,There is no special weather for travelers to travel . Or the fun of traveling in every season is different. But you need to know which destination you can enjoy while traveling.As Nepal's internal tourism is focused only on religious sites, the number of people who choose a destination according to the season is not so high. But the number of 'Choosy ' tourists has been increasing recently. Stakeholders suggest that various destinations from Maipokhari in the east to Khaptad in the west should be suitable among the destinations in the hilly areas. These places in Nepal are suitable for trekking in the hilly areas as the view of the mountain ranges is easy as there is no sunshine, fog or clouds in such areas.
1. Khaptad,Nepal
Khaptad National Park is located at the confluence of four hilly districts of western Nepal, Bajhang, Bajura Doti and Achham. Khaptad is a favorite destination of domestic and foreign tourists.Its area is 225 sq km. This park is one of the best in the world. Khaptad Lake is located in the middle of the Khaptad region, which spreads at an altitude of 2400 to 3700 meters above sea level. This sacred place where Khaptad Baba performed penance 50 years ago is also called the paradise of the far west,Nepal.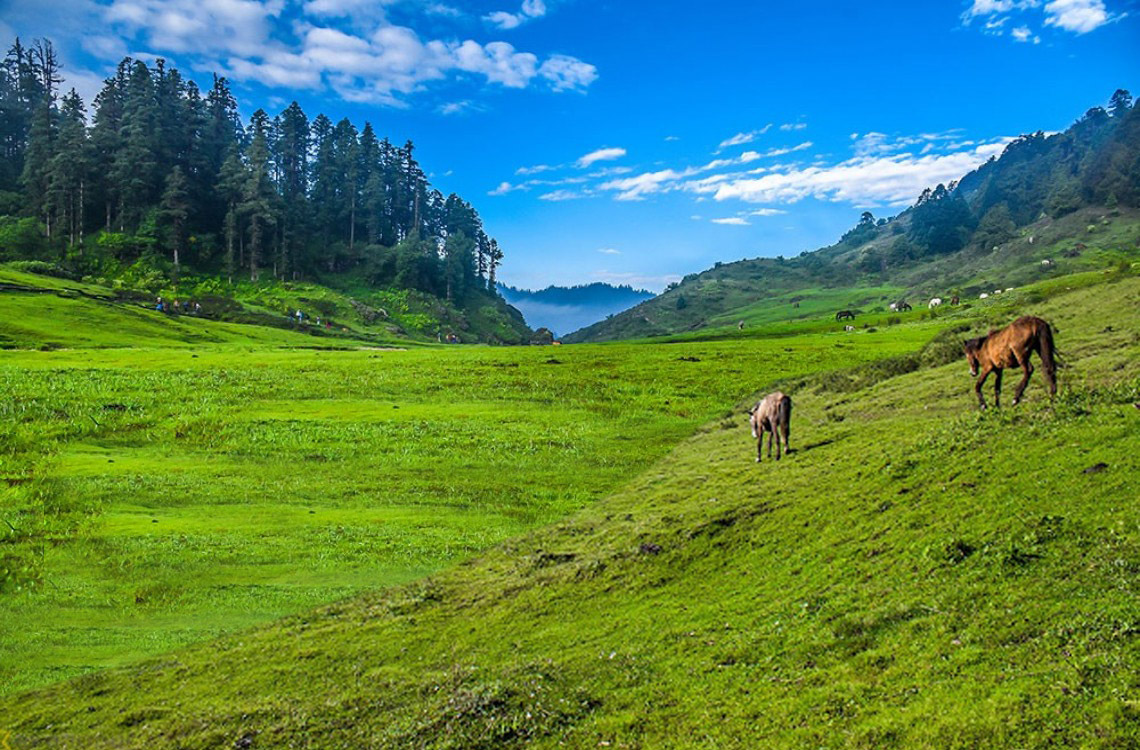 Khaptad Baba's Kuti Triveni River Khapar Daha Shiva Temple Sahasraling Ganesh Temple, Nagdhunga, Kedardhunga are very famous religious places. Among the various cultural fairs that have been held in Khaptad for centuries, thousands of pilgrims gather at Ganga Dussehra. The locals gather to bathe in the Triveni river and watch the famous hoodke dance of the far west.
Khaptad, the most famous destination in the far west, is considered to be the best time to visit from June, July to December. There are not only 25 plains but also 53 hills around it, which is called Jhoti in the local language. According to the legend, these thumkas are made from the soil thrown by the second Pandava Bhima while plowing. Although there are many roads to reach Khaptad, the road from Silgadhi of Doti is very busy. To reach Silgadhi, one has to travel 9 hours by bus from Attaria, Kailali on the East-West Highway.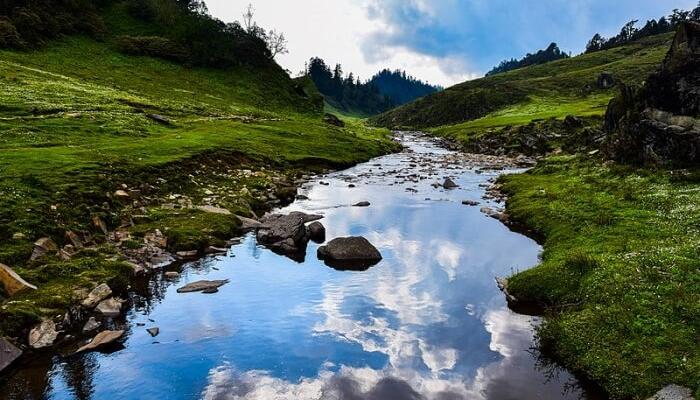 Doti,Nepal can also be landed from Nepalgunj by plane.If you can arrange a helicopter, you can land Khaptad directly. As the construction of road connecting Shantinagar to Khaptad area of ​​Silgadhi-Sanphebgar road section has started, vehicles are expected to reach the outskirts of Khaptad in a few years. Although Khaptad is famous as a destination, it is considered to be a very awkward destination.
Before going to Khaptad, it is better to take a tent, sleeping bag, cooking utensils. Also, it is better to carry dry food. Although there are four hospices here, he lacks proper management. Only two small hotels open at the fair. From Silgadhi, you can reach Zigrana check post through Baglek, then go straight uphill, reach Beechpani and then 3 hours straight to Khaptad.
2. She-Foksundo Lake,Nepal
Lake Foksundo is also known as She-Foksundo Lake. It is one of the deepest lakes in Nepal. The number of foreign tourists visiting this lake, which is physically very remote, is very low. In recent times, the number of domestic tourists visiting here has been increasing. She-Foksundo is a mountainous clear water lake located within the national park. The lake is located at an altitude of 3611.5 meters in Dolpa,Nepal.
The lake is about 3900 meters above sea level. The lake is 4.8 km long, 1.6 km wide and 650 m deep. Located in the foothills of the Kanjirova Mountains, the lake is Y-shaped. Suligand waterfall has emerged from Foksundo Lake. The water density of Foksundo Lake is 400 million cubic meters and the water flow is 3.715 cubic meters per second.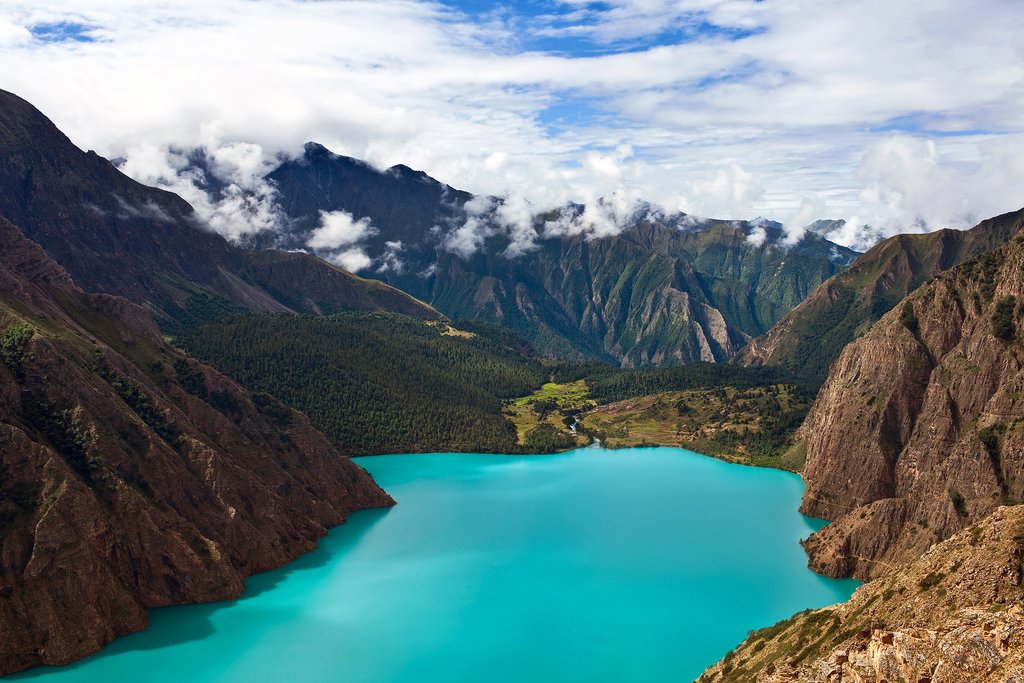 The origin of this lake seems to be due to a landslide in Ringmo village 30,000 to 40,000 years ago. Dolpa can also be reached through the Jajarkot-Dolpa road under construction through Chaurjahari of Rukum district. Out of 117.7 km road from Jajarkot to Dolpa, Nepal114.7 km road track has been opened including Jajarkot, Rukum and Dolpa. Tractors and jeeps have started plying in winter after the construction of the road.
But when there is no bridge over the river, you have to travel to Radijula, Tallu, Triveni, Khawang Hariyali, Kargaga, etc. by changing your vehicle and walk 3 km before reaching Dunai. The Nepal Army is currently constructing the Dhaunne-Tripura Sundari road section. We have to wait for some time for this track to open.
Some of the tourists who go to Dolpa on foot travel by Pokhara-Baglung-Burtiwang bus to see Dhorpatan and after passing through Rukum's Taksera, Hukam, Makot and Ranmaikot, they reach Dunai Bazaar and reach She-Foksundo Lake after a seven-day trek.
3. Rara,Nepal
Rara Lake is considered to be the largest and most famous lake in Pal. Rara in Mugu district of Nepal was named 'Swarga Ki Apsara' by King Mahendra in the year 2020 BS. Rara Lake, located at an altitude of 2990 meters above sea level, is now easily accessible. Rara is 3.2 km long and 167 m deep. It is spread over a total of 10.8 kilometers. Rara Lake has not been able to attract much foreign tourists. Even domestic tourists do not have easy access to accommodation during the season.
There are only two places to stay, including the Danphe Hotel, near Rara Lake. Even the existing hotels do not have enough rooms. Murma Top, located at an altitude of about 4,000 meters above sea level, is a suitable place to see the full shape of the lake. Rara changes its color according to the rays of the sun. Both air and land routes can now be used to reach Rara. If you want to go in your own vehicle through the land route, you will stop at Sallaghari near the lake. Nowadays, most of the domestic tourists use motorcycles to reach Rara.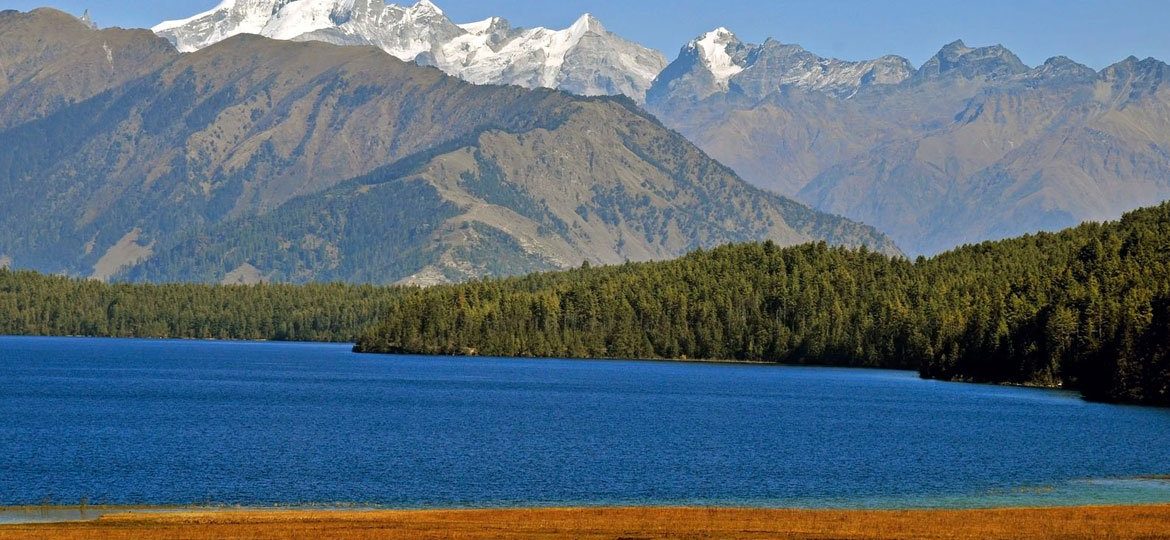 If you go by air, you can reach Rara after walking for about 2 hours from Mugu's Talcha Airport,Nepal Until a few years ago, Rara could be reached in 10 days by walking from Surkhet. Now you don't have to walk for 10 days to reach Rara. There is a daily Karnali bus service from Kathmandu to Jumla for public transport. Khalanga, the district headquarters of Jumla, can be reached by bus in about 30 to 32 hours from Kathmandu,Nepal
From Jumla headquarters, local buses do not leave for Rara. Those who go by car should reserve a small vehicle. However, a bus can be found from Khalang to Mugu district headquarters Gamgadhi via Sinja valley. Rara can be reached in 4-5 hours by walking from Gamgadhi. However, it takes 2 days to reach Rara on foot from Jumla.
To reach Rara, it is best to reach Khalanga, the capital of Jumla, on foot first. However, before reaching Khalanga, one can cross the Sinja Valley from Nagma. Danphelek can be reached in 3 hours from the district headquarters.Jumla's Khalichaur Patan can be reached in about an hour's walk from Danphe Lake. Kavra can be reached by walking slowly from Khalichaur. From there, after an hour's walk, you reach a place called Chautha in Jumla,Nepal. From there, you can reach Jumla by walking uphill for an hour.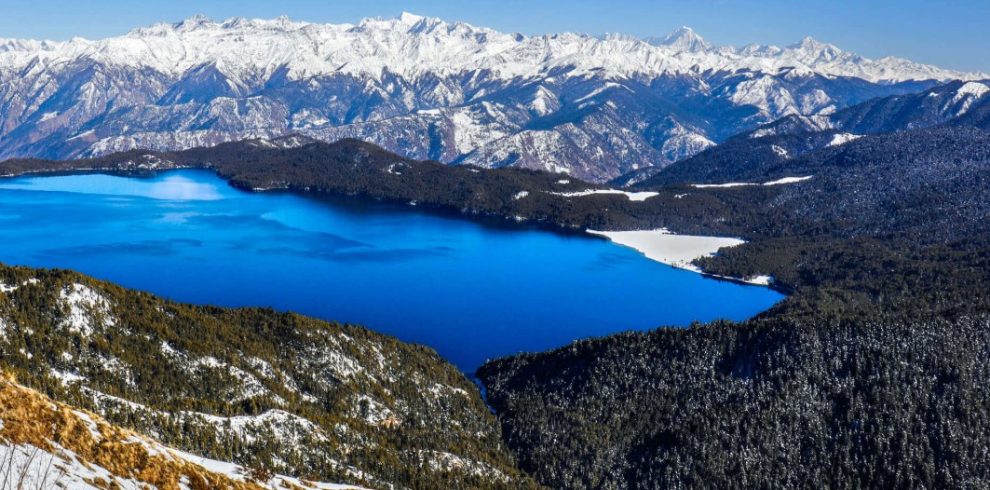 After the mistake, the check post of Rara National Park starts. From there, as soon as you go about one hundred meters, there are two roads. Wherever you go, you reach Rara. Going to the left, you can reach Rara by crossing the next hill. But, if you take another path, you can reach the place. There is no easy way to reach Jyari. The forest path should go straight downhill.
The bus fare from Kathmandu is Rs 2700. One thousand is enough for lunch on the way. Accommodation with food worth Rs 3,000 to reach Rara Lake in two days.
From a horse ride to Rara Lake, one night's lodging and food can reach 2,000 people. When you return to the same route, you will reach Kathmandu in about 17,000. Even if I travel by air when I return, it doesn't cost much. Because you can come to Raja Airport of Nepalgunj from Talcha for around Rs. 5,000. Even if you come to Kathmandu after spending one night in Nepalgunj for 2,000, it will not cost more than 17,000. However, reserving a vehicle from Nepalgajj and Surkhet or Jumla headquarters Khalanga can cost up to Rs 3,000 more.
The best time to visit Rara is from September to October and from April to May. It is not suitable at this time as the temperature here is below zero as there is up to 1 meter of snow from December to March.
4. Bardia,Nepal
In the Tharu language, those who graze cattle are called Bardewa. Legend has it that 12 Bardewas, or 12 herdsmen, sacrificed their lives in Padanaha's Muduwa because of their spiritual beliefs. On this basis, Bardewa is believed to have been named after Bardiya. The 1,608 sq km geographical unit west of Man Khola was taken as modern Bardiya,Nepal.
India was under British rule. In Nepal too, the Rana rule was in full swing. Jang Bahadur helped the British to suppress the Anglo-Nepalese War, the Treaty of Sugauli, India's first Sepoy Rebellion, the Ghadar or the War of Independence. Similarly, Birtia district is also known for the return of Nepali territory lost by the Treaty of Bagauda Lake on November 1, 1860 and the creation of a new country by Jung Bahadur and his eight brothers.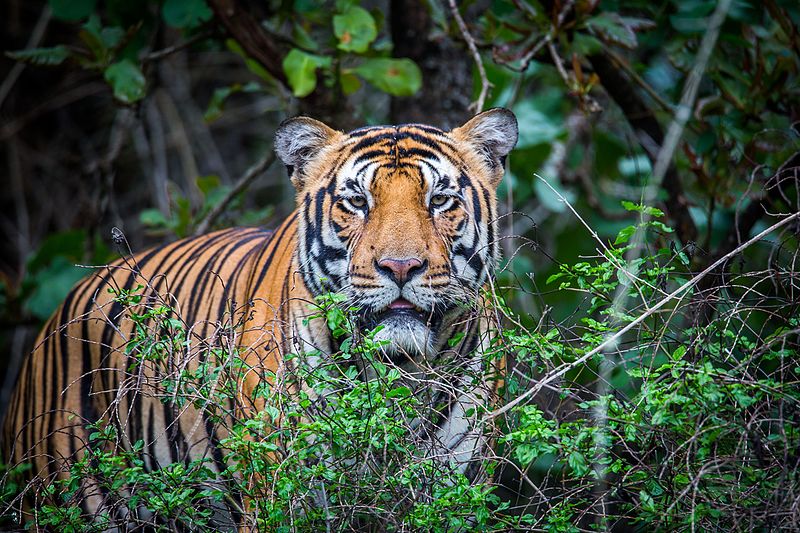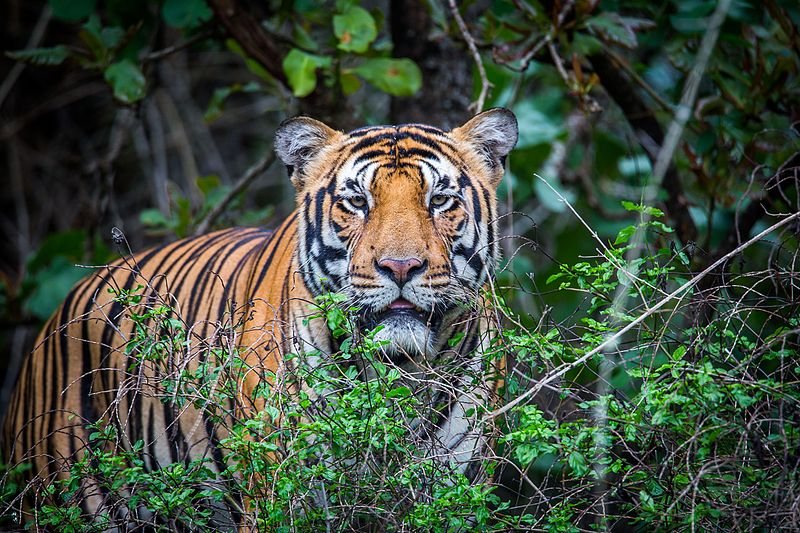 Bardiya is a place where there is a continuous human population resisting dense forests, wild animals and poisonous snakes. It is 6 kilometers away from Kathmandu by road. The largest Bardiya National Park in the Terai region is also spread in this district. In the past, the park has welcomed not only ordinary tourists, but also famous people of the world. In Bardiya, which is considered as an attractive destination for direct observation of tigers, fish and crocodiles, British Prince Prince has to the hero of Titanic has reached here.
Bardiya, a district full of potential and tourist destination, is overshadowed by its physical infrastructure and distance. The Bardiya National Park is spread over about 43 percent of the land in Bardiya district. However, due to government neglect, this Nikunj is obscured. The park covers an area of ​​968 square kilometers. Entrepreneurs say that tourism in the Terai has been neglected due to lack of physical infrastructure for a long time.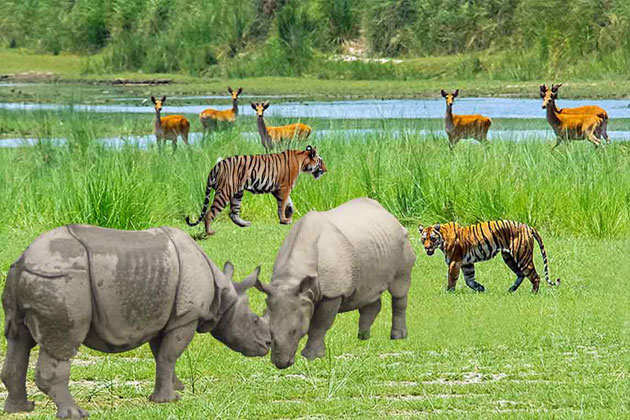 It is home to 54 species of mammals, including wild elephants, rhinos, dolphins, more than 450 species of birds, more than 43 species of reptiles and 121 species of fish. Apart from this, there are more than a thousand species of wild animals and insects in Bardiya Nikunj which are not updated by the government. At the same time, another interesting aspect is that the blind rhinoceros, leopard and hundreds of crocodile babies in the crocodile breeding center, which attack people more, have also attracted the manure of tourists.
Foreign and domestic tourists will be able to do jungle driving, elephant safari, rafting and even campfire. Not only that, tigers and wild elephants can be seen at the same time. Another major feature is the park where rhinos were first transferred to Bardia.
Another tourist destination of Bardiya is the man-made Satkhaluwa Lake. The lake covers an area of ​​60 hectares of forest. Plants can also be seen inside the lake. Another tourist destination of Bardia district is Karnali Bridge or Chisapani. This place also has its own characteristics. Where the cold wind blows from 8 am to 11 am and from 2 pm to 5 pm. Domestic and foreign tourists are enjoying here. Those who go to Bardia can also see Krishnasara dance in Khairapur.
5. Pathibhara,Nepal
Pathibhara is a famous religious pilgrimage site in Taplejung. Pathibhara temple is an important religious site for Hindus and Buddhists. It is at an altitude of 12,000 feet in Taplejung. There are six temples at 3794 meters 19.4 km northeast of the district headquarters Phungling.
It is a day's walk from Fungling Bazaar. The temple is crowded with devotees throughout the year. It is also a convenient tourist destination for those who go on a long holiday during the Dashain festival.The native Limbu community of Taplejung knows Pathibhara as 'Muktuvung'. It can be reached by air, road and on foot.
Hundreds of sheep, goats and lambs are sacrificed daily to Goddess Pathibhara. But any visitor who has lost or limited blood at the slaughterhouse can experience and observe it directly. Looking at the number of sacrifices offered to the goddess, there should have been a pool of blood, but that is not the case. For this reason, there is a popular belief that Goddess Pathibhara accepts the sacrifices offered by the devotees.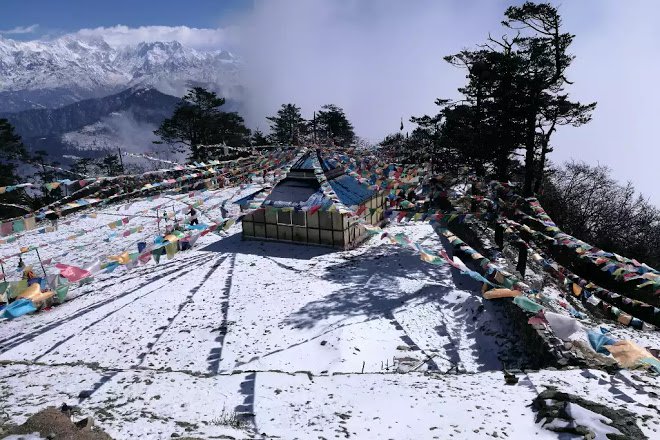 After walking uphill for about 2 hours through the forest of Lekali Angeri, Gobresallo, Dhupi, Gurans and Malingoghari from the lower foot, you come to the western mouth of Dada, the temple of Pathibhara Devi. At that time, Kumbhakarna Himal, who was sitting on the hill, seemed to be in a hurry to welcome him along with his entire mountain range. As the Pathibhara temple is at an altitude of 3794 meters, the temperature here always drops to around zero.
Pathibhara is suitable for travel from February to October. From Birtamod in Jhapa via Ilam-Fidim, you can travel 270 km on the Mechi Highway and reach Fungling on foot from Suketar-Lower Fedi-Upper Fedi. On other routes, one can travel 100 km on the Koshi Highway from Dharan via Dhankuta-Hile and on foot from Basantapur via Gufapokhari and Gorga Dobhan.
---
---