---
Tihar is one of the biggest cultural festival of Nepali after Dashain. This festival is celebrated on the day of Kartik Krishna Paksha Triodashi under the name of Kaag Tihar and is celebrated till Bhaitika (five days) on the second day of Kartik Shukla Paksha .It is also called Yamapanchak as it is celebrated for five days.According to traditional belief, since Yamaraj stayed in  his sister Yamuna for 5 days , it is believed that these five days are called Yamapanchak.
Tihar is also a nature-worshiping festival. Worshiping the mountain, which is considered to be the main source of water and the messenger bird from the animals that are used throughout the year, is also a symbol of love, harmony and friendship.Hindus celebrate this festival as Diwali (Diwali) in many countries of the world including Nepal.
It is also known as Diwali and Dipawali. Since Goddess Dhanvantari was born on this day, it is also called Dhanvantari Jayanti or Dhantares. It is believed that offering lamps to Yamaraj in front of the main entrance of the house in the evening on this day will bring happiness and longevity of life . It is believed that there will never be immortality or death will come late  in that house. In Yamapanchak, crow, dog, cow and Lakshmi, bull-Govardhana and brother are worshiped by sisters respectively. Tihar is a festival of colors, flowers, lights and various Poojas in which playing Deusi, celebrating Diwali and playing with fire crackers ,cards,gambling and eating sweets like celeriac are celebrated with great pleasure and joy.
The 5 days in Tihar are as :
1.Kaag Tihar (Worshiping The Crow) :
Kaag Tihar falls on the day of Kartik Krishna Triodashi. On the first day of Yamapanchak, while worshiping the crow in the festival, flowers and inviolability that are  hovering around the sky. There is a classical provision that the crow should be called and given food items such as curd and rice.But now it is customary for crows to worship by placing rice, bread, sweets and various dishes on plates or duna or tapari on the roof or outside. There is also a provision to light a lamp in the name of Yamaraj in the evening on the same day.
The crow is a very clever and cunning bird. The crow is an omnivorous creature. There are various reasons for worshiping it. If the crow looks at everyone with the same perception, it eats insects and grasshoppers in the grain crop. The crow is also considered to be the messenger of Yamaraj. Crow is also a very dear devotee of Yamaraj.
It is said, 'Speak well, change places to stay, give good news'. It is  believed that if the crow flew in the South,it will bring the loss.If it flew in the West,it brings Sorrow.If it flew in the east,it brings the prosperity  and the fame spreads if it flew  in the North.According to ornithologist Hemsagar Baral, "Worshiping Crow in Tihar is the representation  of love of humans towards all birds ."
Crows help to clean up the garbage dumped at home and in villages and towns. Studies have shown that the face once recognized by the crows,it will never forget. According to Baral, the crow is also an information carrier in itself. It also informs other creatures. When you see a violent animal in the forest, the crow makes a sound and signals danger to other animals. When a natural disaster strikes, it behaves strangely and makes a strange noise.
Crow is worshiped with this Mantra(Chanting):
'ऐन्द्रवारुणवायव्यां याम्यां वै नैऋतास्तथा । वायसा प्रतिगृहृणन्तु मया दत्तं वलिंत्विमम् ।'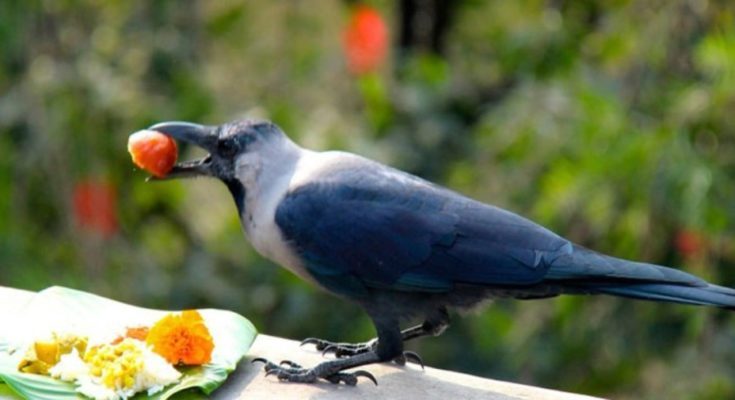 2.Kukur Tihar (Worshiping The Dog) :
The kukur tihar is celebrated on the second day of Yamapanchaka, i.e. Kartik Krishna Chaturdashi, in connection with which there have been various religious and social beliefs. Dogs are worshiped while reciting the mantra. Dogs are worshiped with flowers, inviolability, garlands and sweet food are on this day.
This day is also called Narak Chaturdashi. Dogs are also considered as messengers. The dog is another favorite of Yamaraj. Dogs are not only considered to be obedient and protective, but also to detect, study and investigate the perpetrators of various crimes. Dogs have been helping people by taking care of the house and protecting it from thieves. Thus, from the point of view of security, the dog is also beneficial. To this day, dogs are a popular pet. There is a cultural meaning for people to worship such a good animal.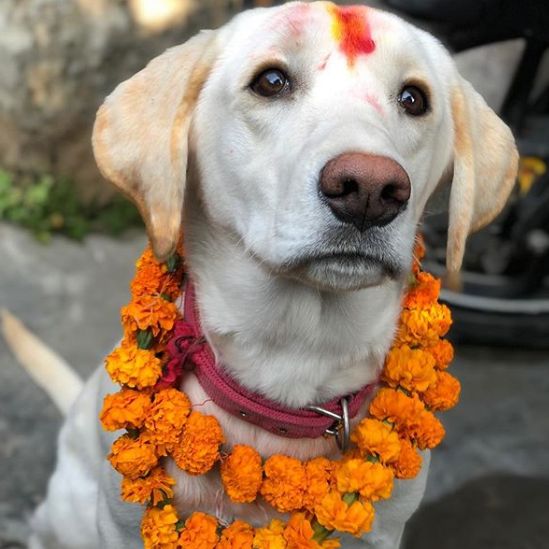 In the same way, it also gives advance warning in case of any natural calamity or divine calamity. Dr. Jagman Gurung says – `Dog festival has its own cultural meaning, which indicates the time of the hunter-gatherer era. The dog's sense of smell is excellent. Its use made it easier for people to hunt. The dog is also called Bhairav's ride. So at the dog festival, we worship the dog's favorite food and put garlands on it.
Dog is worshiped with this Mantra(Chanting):
 'द्वौ श्वानौ श्याम शवलौ वैवश्वत कुलोद्भवौ । ताभ्यामन्नं प्रयच्छामि स्यातामेता बहिंसकौ ।'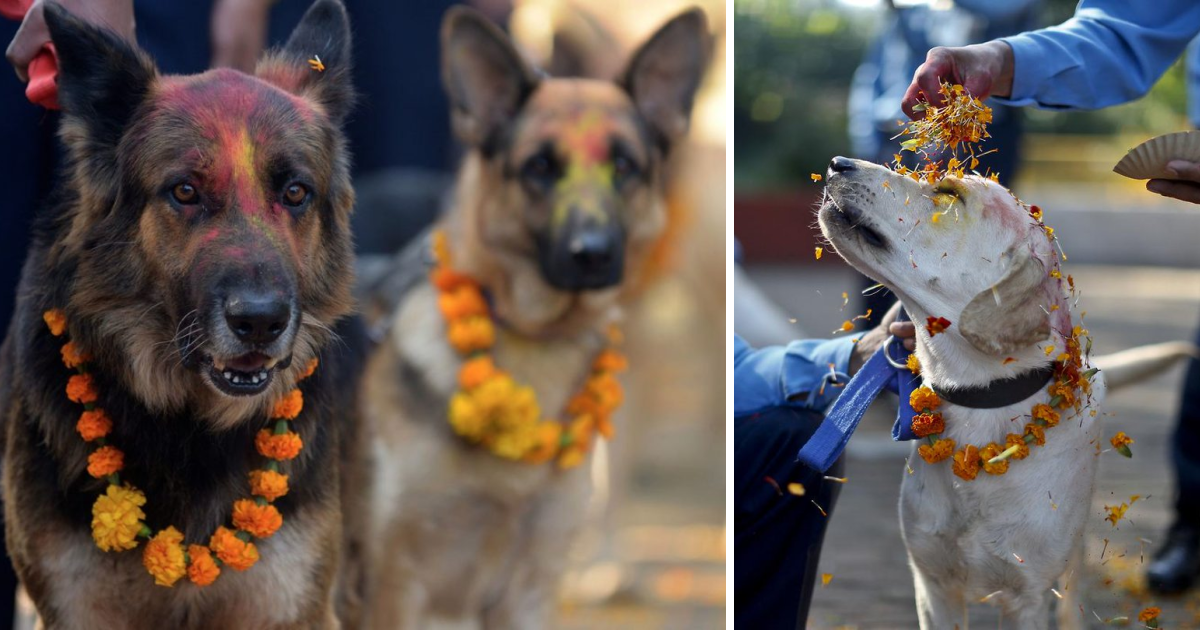 3.Gai Tihar/ Lakshmi Puja (Worshiping Cow and Goddess Laxmi)
The third of the five days of the festival is the day of Kartik Krishna Amavasya or Aunsi. This day is also called Gai Tihar.
On this day,Gai Tihar and Lakshmi Puja, before performing any religious or social rites, the Hindus have a ritual of painting and purifying  the house-yard with cow dung.. On this day, Lakshmi is worshiped as the goddess of wealth and the cow as Gaumata.Cows are considered as livestock. Man uses cow dung as an 'antiseptic'. Cows absorb various harmful radiations from the sun. It helps to clean the atmosphere. Dung gas extracted from cow dung is a major bio fuel. Hindus consider cow to be the form of Lakshmi and Gaumata.
The words Gaijatra, Gaipala, Gaiprani, Gauprani etc. provide various symbolic meanings based on cows.
Goddess Laxmi and Cow are worshiped with this Mantra (Chanting):
"लक्ष्मीर्या लोकपालानां धेनुरूपेण संस्थिता घृतं वहति यज्ञार्थे मम पापं व्यपोहत"
"सुरभिर्वैष्णवी माता नित्यं विष्णुपदेस्थिता । गोग्रासं च मया दत्तं त्वं गृहाणानुकम्पया"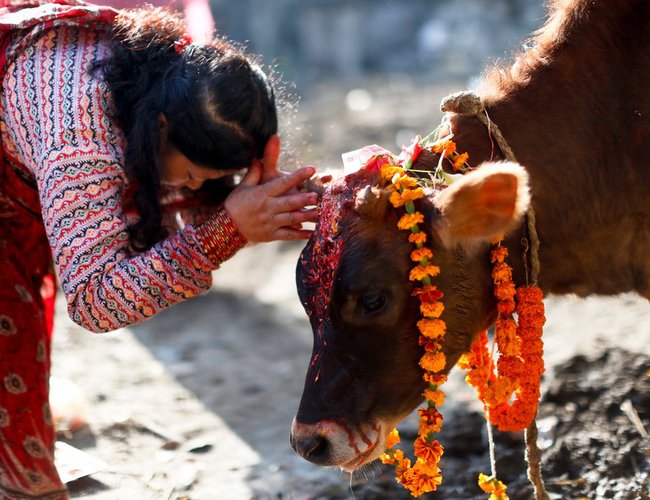 Lakshmi is considered to be the goddess of blessings and the symbol of prosperity. The night of Kartik Krishna Aunsi is considered as the darkest night. The cow is considered a symbol of Lakshmi and Lakshmi is worshiped on the evening of the cow festival. To worship Lakshmi, to worship centipede, velvet flower, akshata, abir, saffron, barley, sesame, curd, panchamrit, cloth, celeriac, cosmetics, coconut, lava, junar, camphor, incense, money  and red soil is needed to cover the yard. Celery is also offered to Lakshmi as an offering. In the darkness, the work of illuminating the night with the light is done to invite Goddess Lakshmi to houses. There is also a message that any kind of darkness should be removed by the light of the consciousness inherent in oneself.
Its origin starts when it was  celebrated  by the people of Ayodhya on the eve of Lord Ramachandra's ascension to the throne of Ayodhya on the day of Kartik Krishna Aunsi after the destruction of various demons and  Ravana in the spirit of public welfare. However, in all these contexts, the fact that this day is of great importance becomes clear. It is a religious tradition to specially worship and adore Goddess Lakshmi on the day of Kartik Krishna Aunsi with the desire of increase in wealth and prosperity and then to use Lakshmi's offerings to mark the Swastika on one's drawers, safes, stores etc.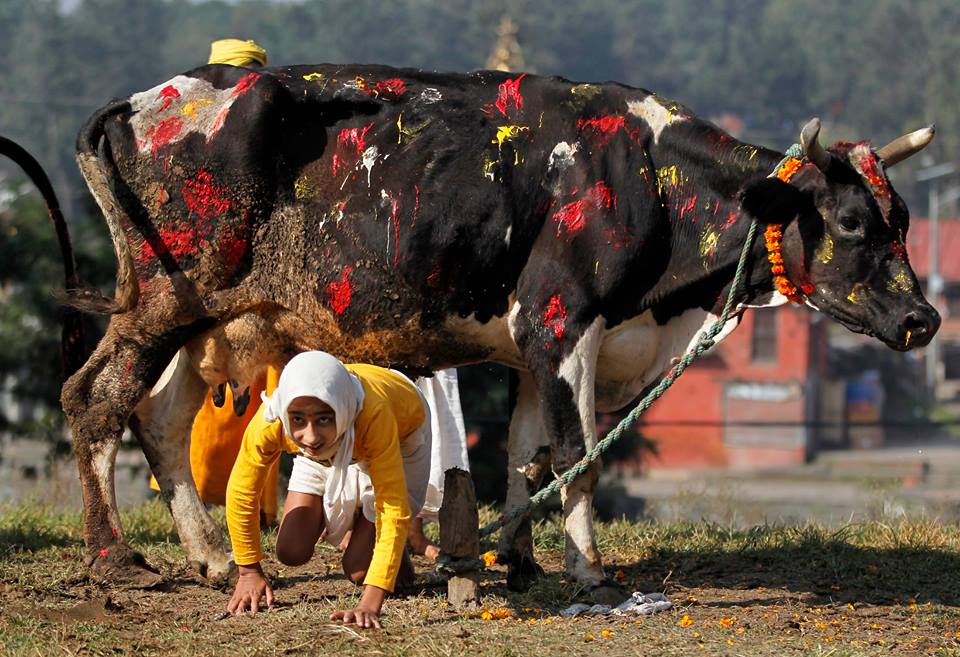 In Nepal, it is celebrated as a part of Yamapanchak. Of the four important nights of the year, the night of Lakshmi Puja is called Sukharatri. In Diwali, "Tamsoma Jyotirgamaya" means to give yourself spiritual satisfaction from darkness to light. On this day, it is customary for girls, especially females, especially young ones , to go from house to house and have fun by singing Deusi,the tihar song.
4.Goru Tihar/ Govardhan Pooja(Worhiping The Bull):
It is celebrated on the fourth day of  Tihar, also known as Hal Tihar or Govardhan Puja,Tihar or Kartik Shukla Pratipada. On this day, it is customary to prepare flowers, abir, saffron, barley, sesame, incense, camphor, rice flour, etc., and give sweet food and flour to the bulls. It is worshiped in honor of the cow as a crop creature. Cattle and plowing brought a revolution in the development of agriculture and in the life of the people. That is why the bull must have been worshiped to pay the debt it has given to the people.
On this day, Hindus worship Govardhana in the courtyard of their house painted with cow dung and red soil in the shape of Govardhan mountain.
Govardhan Mountain  and Bull are worshiped with this Mantra (Chanting):
"गोवद्र्धन धराधार गोकुलत्राणकारक । कृष्णबाहुकृतच्छाय गवां कोटिप्रदो भव"
"बलिराज नमस्तुभ्यं दैत्यदानववन्दित । इन्द्रशत्रोडमराराते विष्णुसान्निध्यदो भव" 
According to traditional beliefs, Govardhana is a mountain near Gokul and Lord Krishna lived with the Gopals in Gokul. The Gopals used to worship Indra, the king of the gods, but they did not get anything from Indra. Krishna says that one day it is better to worship Govardhana mountain which gives minerals, grass, water and firewood than to worship Indra who does not give anything to the people of Gokul and everyone agrees to do the same and worship Govardhana mountain.
Angered by worshiping Govardhana mountain instead of himself, Indra rains hail and water on Gokul and Lord Krishna raises Govardhana mountain by hand to give shelter to all the people of Gokul and finally apologizes to Krishna for his defeat. It is said that Govardhana worship started from that time. Therefore, the words Govardhana, Gokul, Gopal explain the respect given to cows in the society of that time.The Newar community worships their ownself on this day. The main deity has been worshiped with the belief that if the soul is satisfied, the gods will be happy and all work will be successful.
Shankhadhar Sakhwa, a national icon, ruled Nepal in 880 AD. He had run the Nepal Samvat by freeing the people of Kathmandu from debt.In this way,  people exchange New Year's greetings and celebrate various events in memory of Shankdhar Sakhwa.From this day on, men celebrate the festival by playing Deusi.
5.BhaiTika(Worshiping Brothers by Sisters):
This festival is celebrated with special enthusiasm and importance on the last day of Bhaitihar (Bhai Tika) festival or Yamapanchak i.e. Kartik Shukla Dwitiya. In this festival, there is a tradition of worshiping brother to sister and  sister to brother with special respect, feeding them sweets and foods , while brothers give various gifts to sisters.
We have a religious belief that Yamaraj stays in Yamuna's house for five days of Yamapanchak. There is also a story of Indradi Dash Dikpal leaving his kingdom for King Bali during these five days. On the day of Bhai Tihar, worship of Kalash and Ganesha, invocation of Yamaraj, use of bimiro, okhar, oil, velvet garland, duboko tika, katus, etc., implies the wish of happiness, health and longevity of one's sisters and brothers.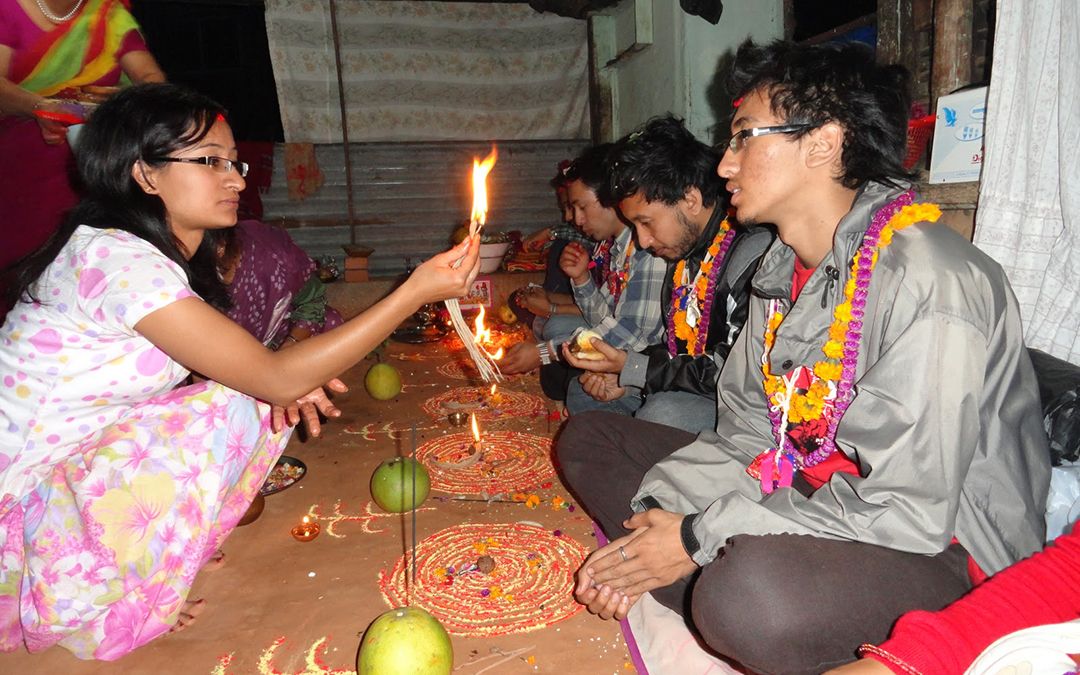 It is considered as a means of meeting brothers who have not met for a long time, removing the tension in the relationship and making the relationship more lasting.On the fifth day of Yamapanchaka, Bhaitika falls. It is customary for sisters to give betel leaves, betel nuts, flowers, etc. to their brothers on the eve of Bhaitika as an invitation. People believe that you should not eat anything without receiving Tika on the day of Bhaitika. On the day of tika, one should take a bath in the morning and worship Ashtchiranjeevi. Yamaraj, Hanuman, Vibhishan, Parashuram fall within the Ashta Chiranjeevi.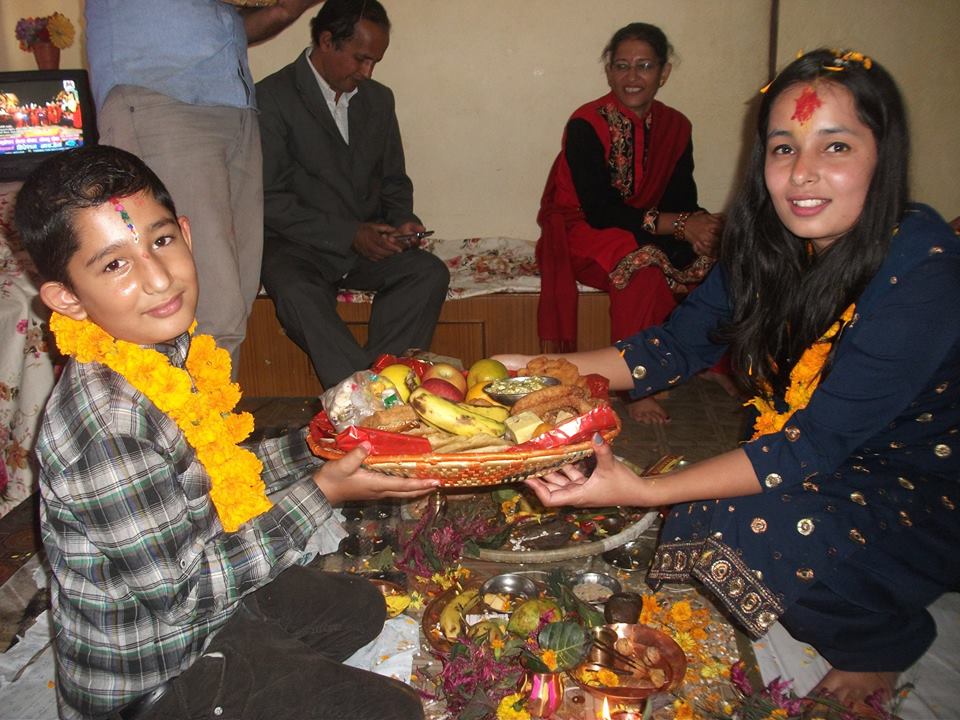 For preparation of Bhaitika, you need okhar, mustard oil, bimira, spices, velvet, dubo and centipede garlands, bread, sweet and savory dishes. First of all, Bimara is worshiped and after that of  worshiping Diyo, Kalash and Ganesha is done. Then, wishing for the well-being of the brothers, one should block the way of the God of Death by worshiping Okhar and Yamaraj at the door. Water and oil should block the seven sieges. Flowers, inviolability, sandalwood and lava should be worshiped and oil should be applied on the head of the brother.
Velvet, and dubo garlands worn by brothers on Bhaitika's day have a special significance. Velvet never fades,   dubo always stays green.Sisters wishing success, health and longevity to their brothers. Yellow, blue, orange, white, green, red and black are applied in a straight line on the forehead. Peace is showered when emotions are mixed in Saptarangi Tika.